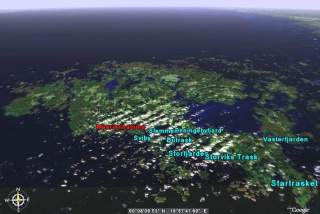 © Google Earth

Mariehamn is the capital of the Åland, autonomous islands of Finland, swedish speaking, in the Baltic sea.

She was founded in 1861 while Åland and Finland formed part of the Russian Empire.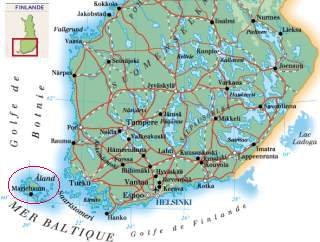 Maria, consort of Tsar Alexander II of Russia gave the town her name (Maarianhamina in Finnish).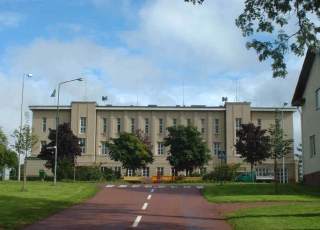 City Hall by Lars Sonk (1)



Mariehamn grew up round the farming village of Övernäs, situated on a peninsula, south of main island, between two marine bays.

In 2005, she accounts for 10.716 inhabitants (50% of the total islands population) over 11,6 km2.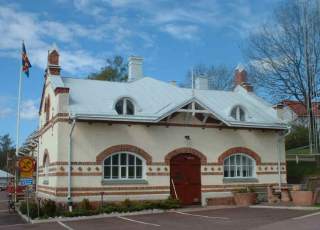 Old Customs House in the Western Harbour (1)



Some 60% of town-dwellers are employed in service industries and the public sector, 20% work in transport and almost 10% in industry.

The Church, the Maritime College, the Town Hall, the Åland Yacht Club (Segelpaviljongen) and several other buildings are from the architect Lars Sonck (1870-1956) who came to Åland in 1878 when his father became vicar of Finström.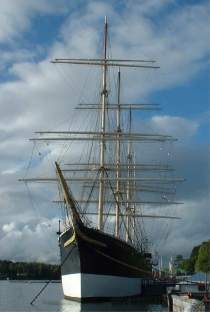 The Pommern

Many shipowners settled down in the town of Mariehamn. The first of them was Nikolai Sittkoff, a merchant who also engaged in shipping. His ships brought back merchandise from abroad, which was then sold in his shop at Strandgatan. He died in 1877, but his name lives on. An arcade is named after him and his statue stands by the main entrance.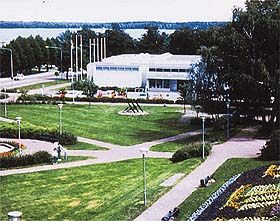 Åland Museum

August Troberg and Gustaf Erikson are two other prominent shipowners who built up large oceangoing fleets. Gustaf Erikson once had the biggest sailing-ship fleet in the world.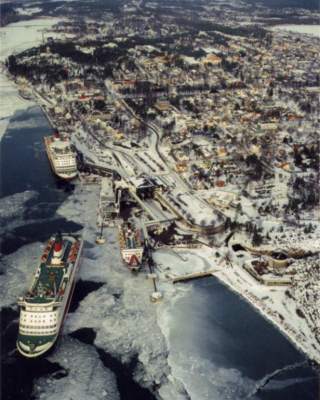 The Western Harbour and the Passenger wharf (1)


One of his windjammers, the Pommern, is amongst Mariehamn's foremost attractions. She was built in Scotland and 2003 was her Centenary year.

The Åland Maritime Museum preserves captain's saloon from the fourmasted barque Herzogin Cecilie, one of Gustaf Erikson's ships. She ran aground off the coast of England in 1936 and before she sank her saloon was salvaged and brought to Åland.

Boat building traditions are kept alive at the Maritime Quarter in the Eastern Harbour. Among the sheds are a boatyard and a smithy as well as a boat and shipbuilding museum. Several small ships have been built there, including the galleass Albanus and the schooner Linden.

Modern shipping flourishes in Mariehamn. Many shipping companies have their offices in the town. They specialize in passenger services and carriage of goods as well as in international tanker trade.

The Pamir was registered in this port from 1931 to 1951.



Library (1)

Pool (1)

Lilla Holmen (the small Islet) (1)

Mariehamn (1)

Torggatan (Market Street) (1)

Church (2)

Houses (2)

Mariehamn (1)

The Western Harbour (1)

The Western Harbour (1)

The Western Harbour (1)

The Pommern (2)

The Pommern (3)

Islands (2)