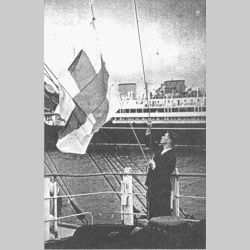 Raising the flag in 1948

Refused by the New Zealand navy as a training ship, she is handed back to Edgar Erikson, Gustaf's son (Gustaf died in 1947).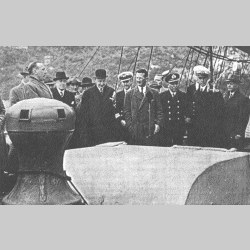 Ceremony of reversion, 12/11/1948

Between 28 May and 2 October 1949, she sailed from Port Victoria to Falmouth in 127 jours loaded with 4233 tons sacks of barley, for the last grain race with the Passat. An american embarked aboard, William F. Stark published a book on this voyage.

The Passat took 110 days to Cobh in Ireland.

The Pamir was one of the last square rigger to make a commercial voyage via the Cape Horn, rounded the 10 July 1949, and the last without auxiliary engine.



Non profitable anymore, the Pamir and the Passat were lying in Penarth as a grain silo and then sold to a belgium scrapper (van der Loo) and towed to Antwerp for being broken up.