She finished her nitrate trade under the flag of F. Laeisz on 28 July 1931 and was laid up.

On 6 November 1931 she was sold for DM 42.000 (£ 2.700) to Gustaf Erikson from Mariehamn (Finland).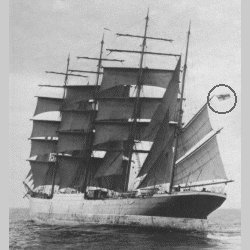 The Pamir under the finnish flag

Her new homeport became Mariehamn and her signal code TPSR.

Erikson put her on the australian grain trade from her first voyage.



The Pamir made the last commercial voyage with cargo carried in a sailing ship departing Australia before the outbreak of the Second World war, for Elder-Smith & Co.

Erikson became well know as the last owner of a fleet of pure sailing ships such as three and four mast square riggers and barques transporting grain between Australia and Europe and wood between Finland and South Africa.